Dymond Engineering based in Bickington usually works with clients from around the UK, and was delighted recently to work with 2 new local clients in Barnstaple, with great results.
These 2 clients come from very different sectors – one is a school and the other is a chic fashion boutique – however we were able to use our skills, experience and expertise to design, manufacture and install the metal fittings they each wanted.
Sticklepath School
Sticklepath School is a primary academy in Barnstaple.  During the summer they required a new set of library shelving to match their existing old equipment, ready for the start of the new school year.  As well as producing the matching metalwork Dymond also supplied the wood work and installed the whole assembly.
Staff at the school were delighted and gave the following feedback:  "We are thrilled, thank you for matching our existing, old, library shelving. You took all the hassle out and it's on time for the new school year! Thank you from Sticklepath School, very happy indeed!"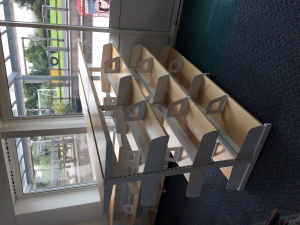 Anji Fashion
Anji Fashion is an independent women's clothing boutique offering a variety of chic wearable fashion, classic essentials, and denim.
In preparation for opening stylish new shop in Barnstaple's Green Lanes, they asked us to supply them with new retail display equipment to both complement their range of women's fashion clothing and perfectly fit the layout of their new store.
Working closely with Anji's requirements Dymond proposed a stylish and flexible display system using stainless steel for the structure and the display arms, with glass for the shelving, and Anji was delighted with it.  We manufactured and installed the fittings – plus a rather gorgeous changing room stool -ready for their grand opening on 12th October. You can find Anji's Fashion at the new entrance to Green Lanes.