Diamedica is no stranger to winning awards. The designer/manufacturer of anaesthesia and respiratory solutions has scooped many prizes over the years, but was delighted to win two awards at the recent Africa Healthcare Summit in London.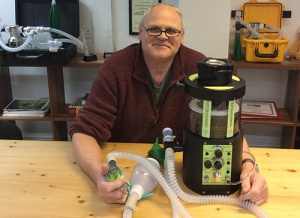 Of the six awards given at the summit, Diamedica received both The International Innovation of the Year and The Solution of the Year.
It was Diamedica's Helix Portable Ventilators that caught the judge's eye – and for good reason.
Their design builds on earlier ventilators made by the company and includes similar gas efficient techniques identified in the peer reviewed AAGBI journal, Anaesthesia.
Feedback from customers plus continuous assessment, testing, research and development has resulted in a ventilator that has become the first choice for humanitarian responders in disaster situations, while it is also ideally suited for use in hospitals in low resource settings.
For further reading, read the rest of this article on the Diamedica Website
A separate write-up can be found on Business Action – North Devon's Business eMagazine
Diamedica manufactures medical equipment for use in challenging environments. Our equipment is designed for simplicity, economy and reliability. Far too much medical equipment sent to developing countries is built for sophisticated modern hospitals and cannot function in low-resource settings.