Lilley Precision Engineering Ltd based in Barnstaple is celebrating its 15th anniversary.
The company was started by Darrian Lilley who has worked in North Devon manufacturing for 30 years after training at Ayers and Grimshaw, when he decided he wanted to run his own business.
The company specialises in a wide range of engineering plastics, including thermoplastics, vulcanised fibre and high performance composites and laminates. "We offer a competitive sub-contract CNC milling and turning service, both locally and all over the UK, as well as abroad," said Darrian.
Lilley Precision supplies products to electrical and general engineering, electronics, transport/rail, packaging, domestic appliance, lighting, medical, switchgear, safety critical parts and other markets. Their products range from aircraft parts to musical instrument parts.
The company has seen many changes including a move to a new unit which quadrupled its space as well as becoming one of the first precision engineering firms in the UK to receive their certification for the more stringent ISO 9001:2015 standard.
Suzanne Lilley, Administration & Quality Manager of Lilley Precision Engineering said 'having the quality management system in place has benefited us in so many ways. Customer growth has been one of them, as we are now recognised as being able to provide a robust quality product and service; meeting our clients requirements."
In addition to this, Darrian and Suzanne also run the company Outboard Motor Loc Ltd and have done so since 2010. "We manufacture, assemble and market outboard engine security products, selling privately as well as to many trade customers throughout the UK and abroad; exporting to Canada, USA, Australia, Sweden, France (Europe) and South America" said Darrian.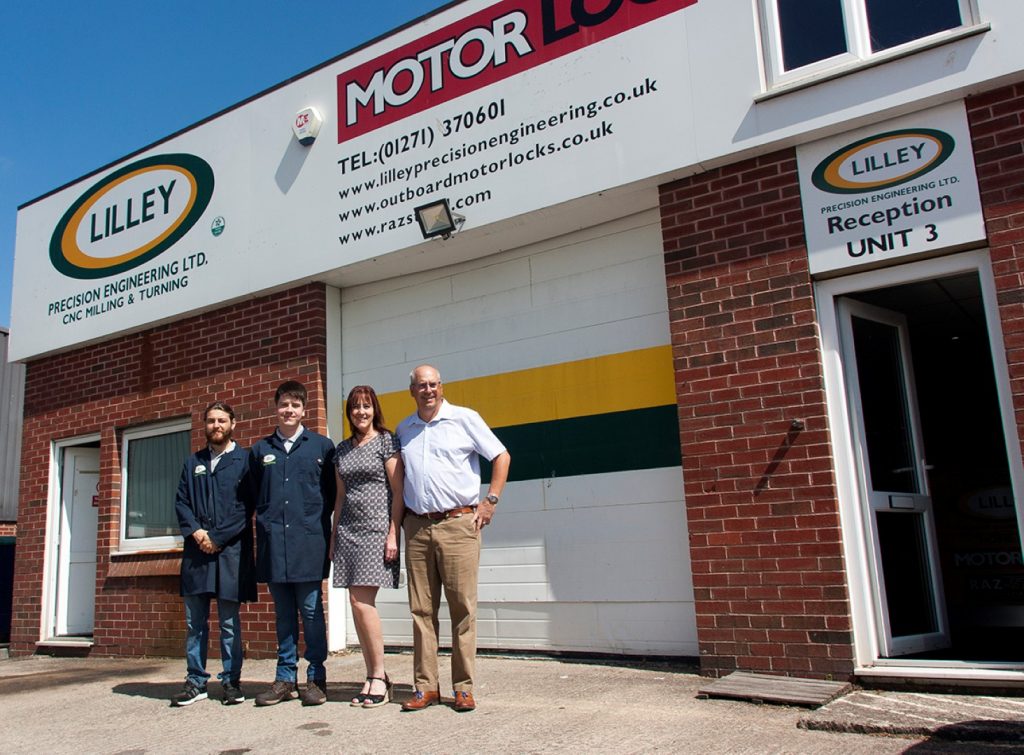 Since 2011, Lilley Precision have also worked with Group Training & Development Ltd, providing opportunities for apprenticeships and have now had four apprentices, their latest placements being Jacob Bartynski and Nathan Green. "The apprenticeships work really well and we feel proud to be able to provide them with the ability to learn a variety of skills at the start of their career path. Being a small business, our team all work closely together and we do feel like a family" said Suzanne. "It is always sad to see our apprentices move on but we love that they always keep in touch with us." Steve Killner, Training Officer from Group Training and Development Ltd said "Lilley Precision and Group Training & Development have worked closely together for many years training, mentoring and supporting engineering apprentices with their learning to enable them to obtain engineering skills and qualifications that will stay with them throughout their career. We look forward to continuing to work alongside Lilley Precision to train more apprentices which will help to strengthen their business and increase the pool of engineering talent in North Devon." Lilley Precision are also proud to work with local schools such as The Park, Pilton, South Molton, Ilfracombe and Torrington providing Work Experience placements "We've done work experience every year for the past ten years and it works well. One of our previous apprentices was as a result of one of our work experience placements" said Darrian.