Bruce Archibold – and the team at Isca Barum – have succeeded in comfortably beating his fundraising target of £2000 for the Alzheimer's Society, with a total to date of £2600 – with donations still coming in!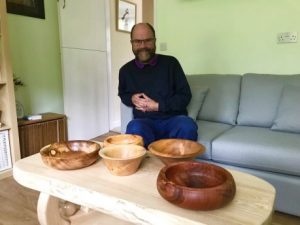 Bruce completed his challenge of making a beautiful coffee table and 5 bowls in just one week – a brilliant effort, involving a lot of hard work.
These were auctioned on ebay and raised £600.
This together with the money donated on his JustGiving page and the funds raised by the Isca Barum team on the Alzheimer's Society Memory Walk in Exeter on Sunday 3rd September have provided invaluable funds for the Alzheimer's Society.
Bruce has said 'I'm delighted to have completed the Directors Challenge and to have raised so much money for the Alzheimer's Society. Everybody donated incredibly generously.  I am very grateful for the support given to me during the challenge itself and via the Just giving sponsorship page and of course the Isca Barum Ramblers who completed the Memory Walk with me in far from ideal weather conditions!'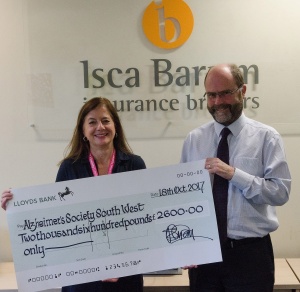 Dania Shaw Community fundraiser for Devon, Cornwall stated: "I'd like to thank everyone who bid on the beautiful table and bowls and especially Bruce who completed his Directors Challenge to make the items in the seven days and for raising such a terrific amount of money.
Until the day we find a cure, Alzheimer's Society will be here for anyone affected by dementia – wherever they are, whatever they're going through. It is down to supporters such as Bruce and Isca Barum  that we are able to deliver the vital work we do in Devon, and across the country"
The picture shows Bruce Archibold handing over a cheque for £2600 to Dania Shaw from Alzheimer's Society
Donations can still be made via the JustGiving page – https://www.justgiving.com/fundraising/bruce-archibold-directors-challenge
For more information, contact Dave Woolley – [email protected]