Bideford-based TCi (GB) Ltd has been honoured with the top awards at both the EDF Energy HPC Excellence Awards and the Considerate Constructors Scheme National Company Award.
TCi attended the Considerate Constructors Scheme Awards ceremony on 3rd November, having been shortlisted. The furniture supplier and refurbishment specialist walked away with not only a Gold award, but also the trophy for Most Considerate Supplier – an accolade more often won by large corporations.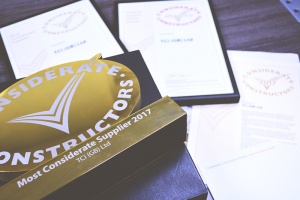 The gold award recognises the commitment TCi has shown to the Code of Considerate Practice at the highest level, following an in-depth assessment of site activities and administration.
Two weeks later, and just over a year after contracts were signed, the prestigious Hinkley Point C Excellence Awards event took place to celebrate the engagement with businesses in the South West.
The evening recognised 65 shortlisted nominees and 21 best in class winners across three themes of Safety, Supply Chain and People.
TCi was pleased to be announced as best Supply Chain Collaborative Partner and proudly won the inaugural Gold Ribbon Award. Also shortlisted were; Frazer-Nash Consultancy, Team Concrete and KBJV Platforms Galleries and Slopes Team; extremely high calibre competition, each commended for their excellent work.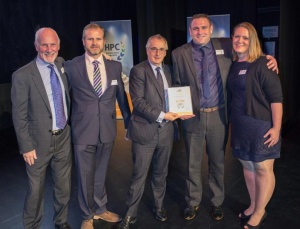 TCi Special Project Lead, Alex Perkis said:
"We are particularly proud of our achievements regarding our delivery of service with our Tier 1 HPC contract. It was already an absolute pleasure to be nominated, but to become the successful winner of the inaugural 'Gold Ribbon' award is simply outstanding.  This award is testament to the hard work by all the TCi team who have all endeavoured to embody the HPC project values and ensure excellence at every level."
Awards were presented by Stuart Crooks, Managing Director, EDF Energy Hinkley Point C, with EDF Energy CEO Simone Rossi.
About the Considerate Constructors Scheme
The Considerate Constructors Scheme is a non-profit-making, independent organisation founded in 1997 by the construction industry to improve its image.
Construction sites, companies and suppliers voluntarily register with the Scheme and agree to abide by the Code of Considerate Practice, designed to encourage best practice beyond statutory requirements.
The Scheme is concerned about any area of construction activity that may have a direct or indirect impact on the image of the industry as a whole. The main areas of concern fall into three categories: the general public, the workforce and the environment.
About TCi (GB) Ltd:
TCi (GB) Ltd was established in 2006 as a commercial furniture supplier, expanding into a specialist refurbishment and fit-out contractor over the years. Today, TCi operates under three brands: TCi furniture WORKS, TCi construction WORKS and ECO360
TCi furniture WORKS provides commercial office and welfare furniture design, delivery and installation to businesses and construction sites throughout the UK.
TCi construction WORKS specialises in the construction and refurbishment of clean room and GMP environments for pharmaceutical, catering, nuclear and medical manufacturing industries throughout the South West.
ECOdesk360 is a 100% sustainable workstation solution. Made from 100% recyclable cardboard and finished with a hard-wearing, recyclable acrylic top, ECO360 represents a truly sustainable solution for the workplace of the future.