Ref: LA009613
TDK Corporation announces the introduction of the 100W i3A series of non-isolated DC-DC converters, packaged in the industry standard 1/32nd brick form factor.  These step-down converters are capable of adjustment from either 3.3 to 16.5V or 5 to 30V output and accept an input voltage of 9 to 53V.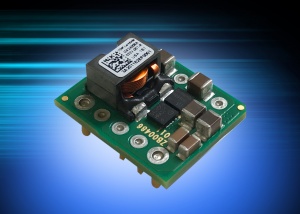 The i3A series can be used to derive additional high power outputs from a single output 12V, 24V, 36V or 48V supply, at a much lower cost than traditional isolated DC-DC converters.
With efficiencies of up to 98%, these compact converters are ideally suited for use in medical, communications, industrial, test and measurement, broadcast and portable equipment.
Measuring just 19.1 x 23.4 x 9.6mm (W x L x H), the i3A can operate in ambient temperatures of -40°C to +125°C.  The thermal design of the series allows for minimal output de-rating, even with low airflow and high ambient temperature conditions.  The product's optimised dynamic voltage response reduces the need for external capacitors, saving board space.
Standard features for the i3A series include a trim pin for output voltage adjustment, + remote sense, remote on-off (positive or negative logic), input under-voltage, over-current and over-temperature protection.
All models have safety certification to the IEC/EN 60950-1 and UL/CSA 60950-1 standards with CE marking for the Low Voltage and RoHS2 Directives.
For more information about the full range of TDK-Lambda i3A series of DC-DC power supplies, please call TDK-Lambda directly on +44 (0)1271 856600 or visit the TDK-Lambda website at: www.uk.tdk-lambda.com/i3a
Follow us at www.uk.tdk-lambda.com/twitter, watch our videos on www.uk.tdk-lambda.com/youtube, connect with us at www.uk.tdk-lambda.com/facebook and www.uk.tdk-lambda.com/linkedin and read our blog at www.uk.tdk-lambda.com/blog.