The "working from home vs. working in the office" debate is still going strong. But a third solution has become popular over the last decade and in 2021 the UK serviced offices market saw growth of over 80%
Serviced offices, also known as managed offices or business centres, provide a scalable, ready-furnished work environment with reception staff, pre-connected internet and phone lines, and cleaning, and maintenance services.
As their popularity increased after lock-down, so too did enquiries and orders at Dymond for desk and chair frames.
"We saw an increase in orders for steel EPC desk and chair frames to furnish serviced office spaces over the pandemic years and the volumes are not dropping"

Mike Garner, Director.
EPC or to give it it's full name, Electrostatic Powder Coating, gives a superb colour finish for metal products because it provides a smooth uniform coverage. EPC is robust and hard wearing – perfect for the table and chair legs that you have seen in most offices that you have worked in.
The metal is prepared for powder coating, with an iron phosphate pre-treatment which improves the bonding of the powder and helps inhibit corrosion.
"We offer a wide range of RAL colours; RAL is a European colour matching system which defines colours for paint, coatings, and plastics. We get a lot of call for black, but white is becoming more popular. We can even offer a lovely clear lacquer finish to achieve that great industrial look without the rust!"

Sue Roberts, Director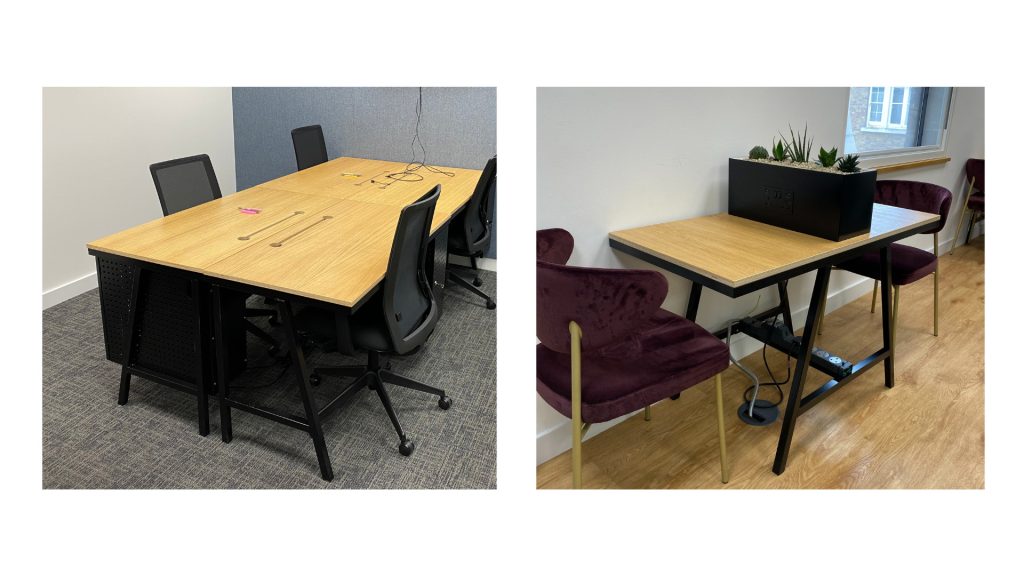 About a quarter of office workers have said they feel they have suffered mentally through isolation whilst working from home. Almost the same number say their mental health has improved without long commutes as they work from home. This seems like another topic splitting the country down the middle; perhaps serviced offices offer a good balance, short commute and still socialising with others in the coffee bar!
Dymond also manufacture table and chair frames for restaurants, libraries, and schools.