ATLAS PACKAGING, a corrugated packaging specialist based in Barnstaple, North Devon, has achieved four awards at the EFIA (European Flexographic Industry Association) Awards, an industry awards programme that celebrates expertise in flexo-print technology across Europe.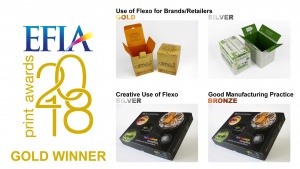 According to Managing Director of Atlas, Jason Sharman, this recent triumph is down to the combination of a 7-strong progressive in-house design team, the excellent print team including operators, and the installation of one of the most advanced flexo printing machines in the world – a £1.75 million investment made sixteen months ago.
The Cuir Rotoflexo, a bespoke printing machine that is the envy of the printing world and enables the possibility of printing 3d effect directly onto corrugated substrate, has elevated Atlas to a new level in flexo-print proficiency, positioning it, alongside such industry Goliaths as DS Smith and Smurfitt Kappa.
Jason commented: 'We are regarded as the 'David' in our industry, always punching above our weight despite our size compared to the larger groups.  We are an intensely ambitious business, continually challenging ourselves to raise our game in the industry and identify printing techniques for flexo which are as good as, if not better than our industry competitors.  Winning these prestigious awards has really helped to show the world what Atlas is capable of.  We are confident that these achievements will open lots of new doors for Atlas in the months to come.'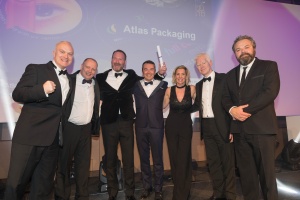 Atlas received a Gold Award for a HQPP flexo-printed gift box which houses a 1.8kg Wookey Hole Cave Aged Cheddar for one of its long-term customers, Ford Farm Cheesemakers based in Dorset.  A silver was achieved for a packaging solution developed by Atlas following a brief from Forthglade, a Devonian pet food manufacturer.  A Silver and Bronze was awarded for Atlas's print sample pack which is the first to feature a 3d effect on a corrugated substrate in the UK, in this case a snake's head which emphasises the scales and the eyes.
Atlas Packaging is the UK's largest independently owned packaging company with a turnover of 18 million.  The company is based in Barnstaple, North Devon and specialises in the bespoke design and manufacturing of corrugated packaging for a number of industries UK wide including food and drink, pharmaceuticals, horticulture and automotive.