Sharp & Tappin has recently installed and commissioned one of its new Compcut 200 advanced composite saws into SHD Composites in Sleaford, Lincolnshire.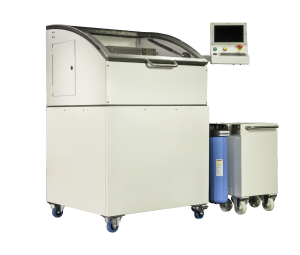 Sharp & Tappin has long enjoyed an enviable reputation for developing innovative engineering and technological solutions.
The Compcut 200 represents the latest in Sharp & Tappin's range of composite machining solutions. This new machine has been designed to offer composite R&D teams and test centres affordable access to an easy to use though inherently sophisticated and robust plate saw.
The Compcut 200 enjoys a host of well thought out features that include:
Compact size with small footprint
High quality surface finish allowing immediate testing
Clear working area visibility
Excellent perpendicularity and parallelism
Automatic material positioning and innovative clamping
Ability to run multiple specimen cuts
Fully enclosed work area ensures user safety
Both dry and wet cutting options
Automated control and part programme capability for consistent results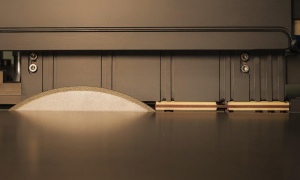 Ben Sharp (Sharp & Tappin – Technical Director) said, "We are extremely proud to have one of our new Compcut 200s being used by such a well known and respected company as SHD Composites, who are at the cutting edge of advanced composite technology."
Alix Sauget (SHD Composites – Research & Development Manager) added, "We have been using the Compcut 200 for the past month and are already seeing the benefits of its enhanced production capabilities. In short, the Compcut 200 has enabled us to quickly, easily and consistently produce high quality test samples, which all have an exceptional cut, perpendicularity and parallelism. Thus meaning we are now able to test our samples straight from the saw without needing to deburr or polish them first, saving us a significant amount of time and effort every day. We believe the Compcut 200 will be a valuable addition to our organization and are looking forward to developing and building on our relationship with Sharp & Tappin going forward"
Helen Doughty (SHD Composites – Director) said, "We are really pleased to be one of the first companies in the UK to be using the Compcut 200 as an active part of our composite testing process and are already seeing the benefits because of the amount of time it is saving the team. This purchase combined with other major investments in developing and enhancing our in-house composite production and testing capabilities, ensures we can support the requirements and demands of our customers in the long-term."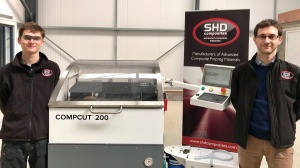 Sharp and Tappin Technology LTD was initially formed in 2003 by the Sharp & Tappin families as an engineering company.
Since then the business has grown in size and capabilities year-on-year, evolving into what is now a well-respected engineering, electro mechanical, and software design company that addresses the full spectrum of hi-end technical requirements for all sizes of businesses across multiple verticals and sectors, both nationally and internationally.
Its team of highly skilled, imaginative engineers offer a unique in-house capability, creating solutions from initial concept through design to product manufacture, and their intimate knowledge of system integration allows them to provide their clients with an unrivalled level of service and support.
In parallel with the above, they have also designed and developed a comprehensive range of cutting edge products – all and built in-house – which include the Compcut range of advanced composite saws.
Founded in 2010 by Steve and Helen Doughty, SHD has maintained its family ethos throughout its growth, now having over fifty members of staff working across four sites in Sleaford, Lincolnshire with a fifth site in Krsko, Slovenia.
With three hot melt fabric laminating lines, a Uni-Directional machine together with our Research and Development facility, the promotion of sustainable materials remains at the core of the company's philosophy.
The investment in a fully equipped test laboratory and autoclave to provide mechanical testing, thermal analysis and rheometry for internal product development and prototyping gives us a strong foothold to provide superior product support.
As ever, our excellent service and short lead times together with reactivity and first class technical customer support continue to be our fundamental company ethos..