7-year warranty 1000 and 1500W power supply models added to RWS-B series
6 July 2017
Ref: LA008049
TDK Corporation announces the introduction of the RWS1000B and RWS1500B series of AC-DC power supplies, extending TDK-Lambda's popular 7-year warranty 50 to 600W RWS-B range.  Rated at 1000W and 1500W output power, the units are available with 12V, 15V, 24V, 36V and 48V outputs.  Both series feature screw terminal blocks with covers, in place of widely used busbars, allowing easy connection of the output cables.  These new models are well suited for general industrial, communications, test and measurement and LED signage applications.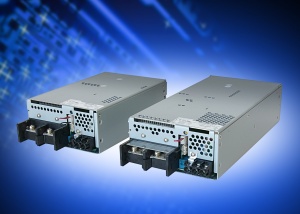 Accepting a wide-range input of 85 to 265Vac, the high power RWS-B series can operate in ambient temperatures of -20 to +60°C, derating linearly above 50°C to 60% load at 60°C.  The outputs are adjustable by -15/+10% to accommodate non-standard voltages.  The overall case dimensions (W x H x D) for the 1000W are 127 x 63 x 198mm, and 127 x 63 x 261mm for the 1500W models.
Optionally, the 1000/1500W RWS-B power supplies can be ordered with double sided board coating, reverse airflow, remote on/off, single wire current sharing and DC good and fan alarm signals.
The units are safety certified to IEC/EN/UL 60950-1 with CE marking for the Low Voltage and RoHS2 Directives.  The units also comply with EN 55011-B and EN 55032-B conducted and radiated emissions, and meet the EN 61000-3-2 harmonics and IEC 61000-4 immunity standards.
Download the full press release HERE
For more information about the full range of TDK-Lambda RWS1000B and RWS1500B series of AC-DC power supplies, please call TDK-Lambda directly on
+44 (0)1271 856600 or visit the TDK-Lambda website at:
Follow us at www.uk.tdk-lambda.com/twitter, watch our videos on www.uk.tdk-lambda.com/youtube, connect with us at www.uk.tdk-lambda.com/facebook and www.uk.tdk-lambda.com/linkedin and read our blog at www.uk.tdk-lambda.com/blog.
About TDK Corporation
TDK Corporation is a leading electronics company based in Tokyo, Japan. It was established in 1935 to commercialize ferrite, a key material in electronic and magnetic products. TDK's portfolio includes passive components, such as ceramic, aluminium electrolytic and film capacitors, ferrites and inductors, high-frequency products, and piezo and protection components, as well as sensors and sensor systems and power supplies. These products are marketed under the product brands TDK, EPCOS, Micronas, Tronics and TDK-Lambda. TDK's further main product groups include magnetic application products, energy devices, and flash memory application devices.
TDK focuses on demanding markets in the areas of information and communication technology and automotive, industrial and consumer electronics. The company has a network of design and manufacturing locations and sales offices in Asia, Europe, and in North and South America. In fiscal 2017, TDK posted total sales of USD 10.5 billion and employed about 100,000 people worldwide.