A new initiative that will bring together business and industry with expertise and equipment at a cutting edge electron microscopy centre has formally launched at the University of
Plymouth.
The Plymouth Materials Characterisation Project (PMCP) will enable companies in Devon to work with academics and technical specialists using a new Focused Ion Beam Scanning
Electron Microscope (FIB-SEM), only the second in the country to be made available for commercial use by a university.
Funded by a £1.7m grant from the EU's European Regional Development Fund, PMCP will see more than 40 businesses working with the University's flagship facility, Plymouth Electron
Microscopy Centre (PEMC) between now and the end of 2020. At the launch event held on campus on Friday 9 February, representatives from industries
including science, aerospace, engineering, bio-medical, manufacturing and microelectronics, witnessed first-hand the new million pound dual-beam microscope at the heart of the project. The new FIB-SEM is able to simultaneously scan, analyse and mill through a range of materials, creating digital 3D models at a nanoscale.
Claire Pearce, PMCP's Project Manager, said: "Over many years, PEMC has developed a fantastic reputation for working with the commercial sector, utilising our electron microscopes to acquire astonishingly detailed images and compositional data from the surfaces and structures of specimens. This new dual beam microscope significantly extends our capability in providing rapid solutions to questions of structural integrity, materials characterisation and product development in a broad range of industry sectors. This is an extremely valuable resource when it comes to product development, failure analysis and quality control."
The event, held at the Roland Levinsky Building, was hosted by Professor Jerry Roberts, Deputy Vice-Chancellor for Research and Enterprise, who described PEMC as "a jewel in the
crown not just for the University, but for the city of Plymouth". Professor Roberts provided an overview of the project, which will enable businesses to obtain at least 12 hours of free
contact time at the University. Sixteen of those companies will receive an additional 18-hours' of intensive business support, particularly those with specific product development or quality control opportunities.
Also speaking at the event were experts from the University and Oxford Instruments, alongside the first commercial user, Plessey Semiconductors. Plessey's LED Lead Designer, John Whiteman, stated that: "Access to the FIB-SEM at the University has already made a difference to our understanding of our product development process, unveiling levels of detail that are key to Plessey continuing to develop micron scale LEDs for future lighting and display technologies."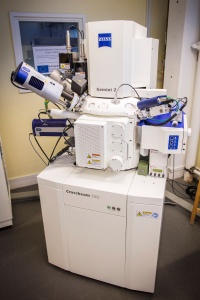 Dr Natasha Stephen, Director of PMCP, and a Lecturer in Advanced Analysis (Earth & Planetary Sciences) in the School of Geography, Earth and Environmental Sciences, stressed that the project would build upon PEMC's successful history of working with industry, both regionally and nationally – and lay the foundations for even greater engagement.
Natasha said: "This EU funding has enabled us to recruit two highly-skilled technical specialists, who will work alongside businesses, their engineers and specialists, and our own University academics to ensure our industry customers make the most of their time with the equipment, and expertise we have here. We are very excited to be able to welcome this new dual-beam microscope into the PEMC family, and make it available for our industrial collaborations."
Dr Roy Moate, Associate Professor and Manager of the PEMC, added: "Being able to offer our customers access to 3D capability is an exciting step in the ongoing development and growth of PEMC. This project has the potential to create a number of new, long-term collaborations, between the University and industry; true knowledge transfer in action."
Download the information leaflet HERE