Low  acoustic  noise  modular  700  to  1200W  power supplies have BF ready isolation
Date: 20 June 2017
Ref: LA008720
TDK Corporation announces the introduction of 700 to 1200 Watt models to the QM series of modular AC-DC power supplies, featuring low acoustic noise and BF ready isolation. With both medical and industrial safety certifications, the series is ideal for a wide range of applications, including BF rated medical equipment, test and measurement, broadcast, communications and renewable energy applications.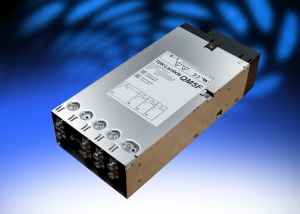 Packaged in a 127mm wide, 63.3mm high, 270mm long enclosure, these new QM models can deliver 1200W at 180-264Vac and 700W with a wide range input of 90-264Vac. Up to 12 outputs can be configured using single and dual output modules with voltages from 2.8V to 61.6V. An optional standby/signal module can be selected with a choice of one or two standby voltages (5V, up to 2A and 12V at 1A), unit inhibit or unit enable, an AC Good signal and a PMBus™ interface.
The units will operate in ambient temperatures of -20 to +70°C, derating the output power and output current by 2.5% per °C above 50°C.  The QM operating efficiency is up to 91% and as internal power loss is reduced, a low speed low audible noise fan can be utilised.  This provides an enhanced patient/user experience and increased reliability as less dirt and contaminants are drawn into the power supply.  The QM series is covered by a seven-year warranty.
The units are certified to IEC/EN/UL/CSA 60601-1, ANSI/AAMI ES 60601-1, IEC/EN/UL/CSA 60950-1, is designed to meet IEC/EN 61010-1 and has the CE marking for the Low Voltage and RoHS2 Directives.  With an input to output isolation of 4,000Vac (2 x MOPPs), 1,500Vac input to ground (1 x MOPP) and 1,500Vac (1 x MOPP) output to ground, the series can be used in BF rated medical equipment.  The QM series has a maximum earth leakage current of 300µA, while still complying with the EN61000-6-3:2007 and EN60601-1-2:2015 (curve B conducted and radiated) emission standards.  The units also meet the EN60601-1-2 and EN61000-6-2 immunity standards.
Product selection is optimised and simplified through the use of an on-line configurator, with a choice of output, signals, leakage currents and standby voltages.  Once the desired selection has been made, the configurator will automatically produce a short 7-digit code for easy order placement.
Harsh environment DC-DC converter series extended with additional voltages and power levels
Date: 26 June 2017
Ref: LA009476
TDK Corporation announces the introduction of additional models to the HQA series of harsh environment DC-DC converters.  The series now includes both 85W and 120W ratings with output voltages of 5V, 12V, 15V, 24V, 28V and 48V. The input voltage is 9V to 40V for the 5 to 28V units and 18V to 40V for the 48V unit.  All models can withstand a 50V surge for 1 second.  With efficiencies of up to 92%, the HQA series is highly suited for use in COTS, communications and industrial equipment.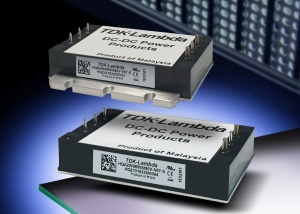 The HQA series has been qualified using methods consistent with MIL-STD-883, and offers two screening and operating temperature options.
The HQA120 M-Grade has functional testing in cold, hot and room ambient temperatures, and an extended 96 hour burn-in with ten-cycle temperature testing.  The S-Grade (HQA85 and HQA120) has functional testing in hot and room ambient temperatures and the standard burn-in period.  The full load operating temperature for the M-Grade is -55 to +115°C, and -40 to +115°C for the S-Grade.
A constant switching frequency enables easier EMC system compliance and, without the use of optocouplers in the control loops, high temperature long-term reliability is increased. All models feature auto-recovery protection for both input under voltage and output overload. The outputs can be adjusted using the trim function by +/-10%, and turned on or off remotely.
Two baseplate mounting versions are available.  The flanged format measures 60.6mm x 55.9 mm x 12.7 mm, with the non-flanged following the standard quarter brick format and measuring 60.6mm x 39 mm x 12.7 mm.
Safety certification includes IEC/EN 60950-1, UL/CSA 60950-1 with CE marking for the Low Voltage and RoHS2 Directives.  Input to output and input to baseplate isolation is 2250Vdc.
For more information about the full range of TDK-Lambda HQA series of DC-DC converters, please call TDK-Lambda directly on +44 (0)1271 856600 or visit the TDK-Lambda website at: www.uk.tdk-lambda.com/hqa.
LA009476 – HQA DC-DC converter series extended – FINAL
Visit us on stand D25 at Manufacturing & Engineering North East 2017.
We look forward to seeing you there.
TDK-Lambda UK Limited
Kingsley Avenue
Ilfracombe
Devon, EX34 8ES
United Kingdom
Telephone: +44 (0)1271 856600 (Reception)
Telephone: +44 (0)1271 856666 (Sales)
Fax: +44 (0)1271 864894
VAT number: GB 862 7888 66
Registered office: Kingsley Avenue, Ilfracombe, Devon, EX34 8ES TDK-Lambda UK Limited is a company registered in England and Wales with company number 634143