£1915 raised at the NDMA Awards Raffle handed to Over and above
North Devon Manufacturers Association Chairman, Paul Mullen visited the Northern Devon Healthcare NHS Trust charity to present the money raised at last month's awards ceremony after a generously supported raffle.
The awards celebrate the rich and diverse, often world-class manufacturing industry in the local area. At the end of the evening, there is a raffle for a nominated charity, with prizes generously donated by local businesses.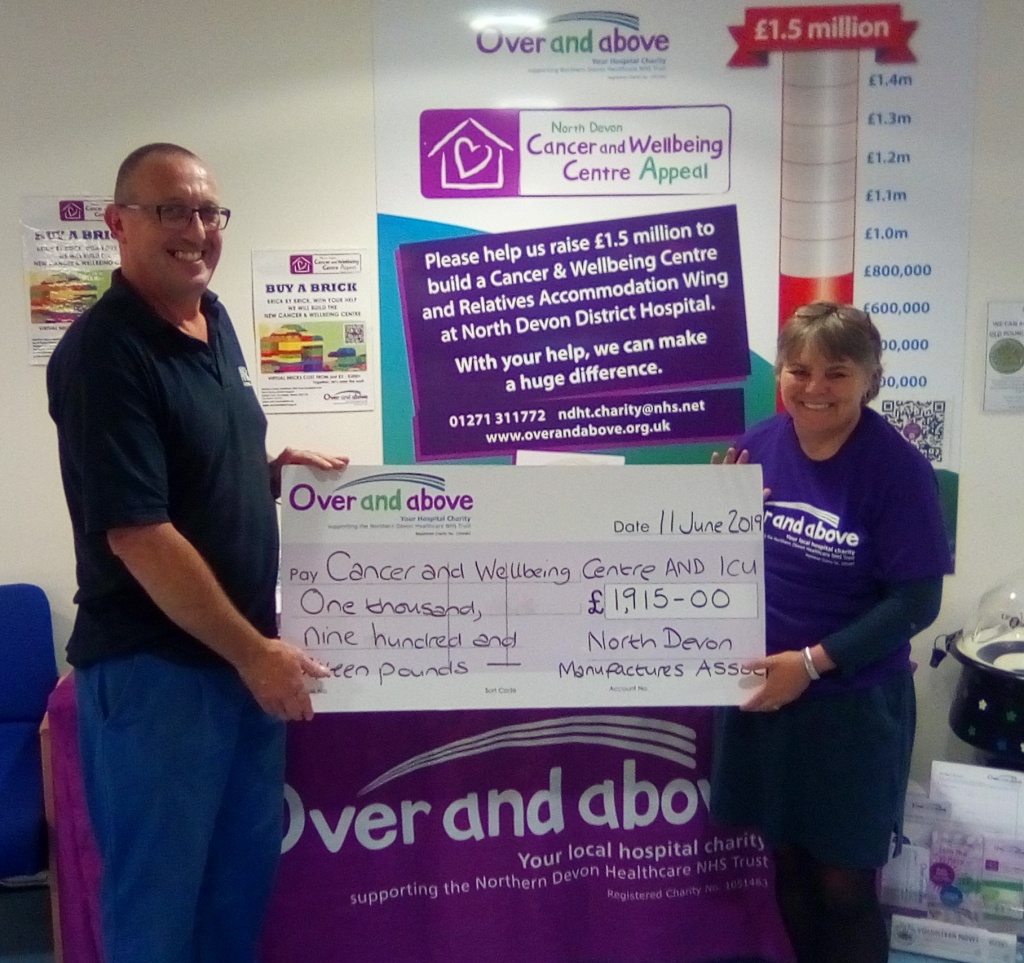 Raffle Prize Sponsors:
This year, NDMA chose to support the Cancer and Wellbeing Centre and North Devon ICU, after the incredible story of Richard Barnes, Manufacturing Manager at Beran Instruments. Richard gave a heartwarming speech at the ceremony describing what had happened and the following is a much abbreviated version of events:
On 10th June 2018, Richard Barnes – known to many of us as Manufacturing Manager at Beran Instruments – was admitted to A&E with an aching left leg and was quickly diagnosed with necrotising fasciitis and a rare form of leukaemia, requiring immediate amputation of the leg. More complications followed as Richard fought for his life, unconscious in ICU with sepsis, and when he had started to recover, a stroke caused a further setback. His family were told to prepare for the worst.
Astonishingly, he survived and left hospital on 13th August, still receiving chemo treatment and undergoing physiotherapy. Despite one more week in hospital with neutropenic sepsis due to the chemo, Richard says he is; "now cancer free able to walk on my crutches and climb the largest sand dunes I can find on Woolacombe beach."
"I will never be able to thank the staff at NDDH enough for the incredible treatment and care I had, I will always be in their debt which is why I have volunteered to be a fund raiser and mentor and in some small way give back"
Thanks to the generously donated prizes from: Cedars Inn, SR Furniture, Barnstaple Hotel/Brend Hotels, Anglo Krempel, Anew South West, Portmore Golf Club, Petroc, Reflect2Grow, Sam's Cider (Winkleigh Cider Company), GT Ales, Forrest Brown
To read more about the awards evening, click HERE

Over and Above is the registered working name of the Northern Devon Healthcare NHS Trust Charitable Fund and is the independent registered charity no. 1051463 which supports the work of Northern Devon Healthcare NHS Trust.
They fundraise Over and Above what the NHS is able to provide to make a real difference to patients, their families and our amazing staff that treat them.
For more information on how to donate, take part in Over and above's exciting and challenging events or volunteer, visit www.overandabove.org.uk Together, with your help we can make it happen.